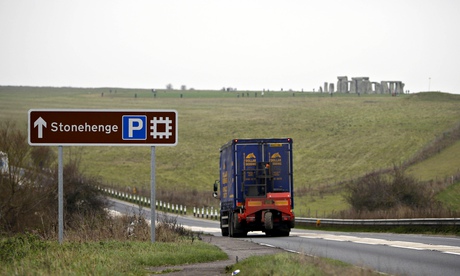 Vehicles on the A303 at Stonehenge in Wiltshire, where a 1.8-mile tunnel is being planned. Photograph: Steve Parsons/PA.
Experts have hit out at plans for a road tunnel under Stonehenge, warning it could damage the oldest encampment discovered near the stones.
Charcoal dug up from the Mesolithic encampment at Blick Mead in the world heritage site, around one and a half miles from the stones, has been tested and dated to around 4,000 BC, archaeologists said.
A dig by the University of Buckingham has also unearthed evidence of possible structures, but more investigation is needed to see what the site contains. There is also evidence of feasting, including flints and giant bulls known as aurochs, the experts said.
They warn that the chance to find out about the earliest chapter of Britain's history could be damaged by the plans for the 1.8-mile tunnel as part of efforts to relieve the A303 bottleneck at Stonehenge.
The £2bn scheme would see the road put into a dual carriageway tunnel past Stonehenge, reducing congestion and improving the setting of the stones - giving the public greater access to the wider prehistoric landscape and benefiting wildlife, supporters say.
But archaeologist David Jaques, who made the discovery of the encampment, said: "The prime minister is interested in re-election in 140 days – we are interested in discovering how our ancestors lived six thousand years ago."
He added: "Blick Mead could explain what archaeologists have been searching for for centuries – an answer to the story of Stonehenge's past.
"But our chance to find out about the earliest chapter of Britain's history could be wrecked if the tunnel goes ahead."
Source: http://www.theguardian.com/uk-news/2014/dec/19/stonehenge-tunnel-wr...